n°45 — The New Images As Fashion. Author: Aude Felley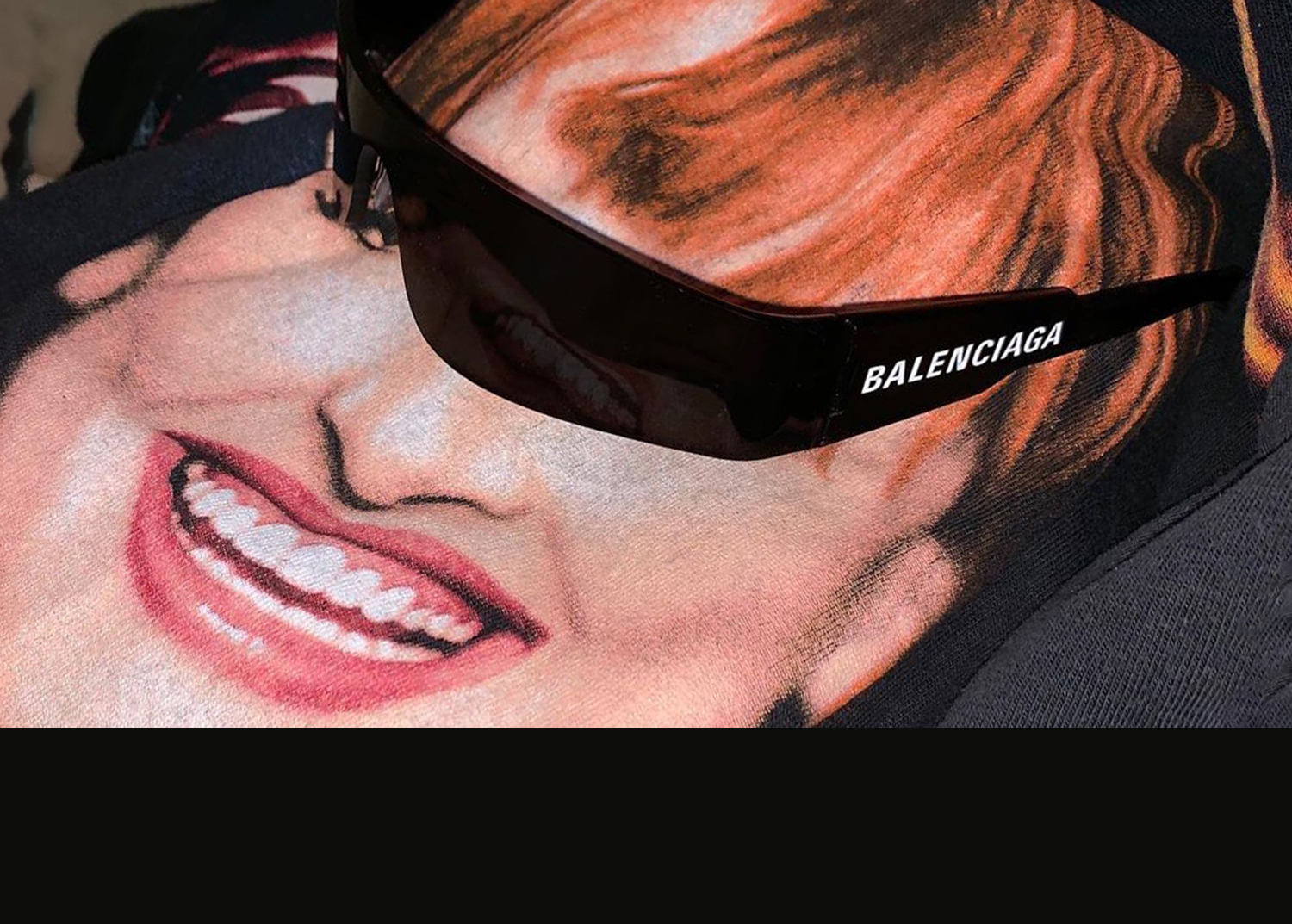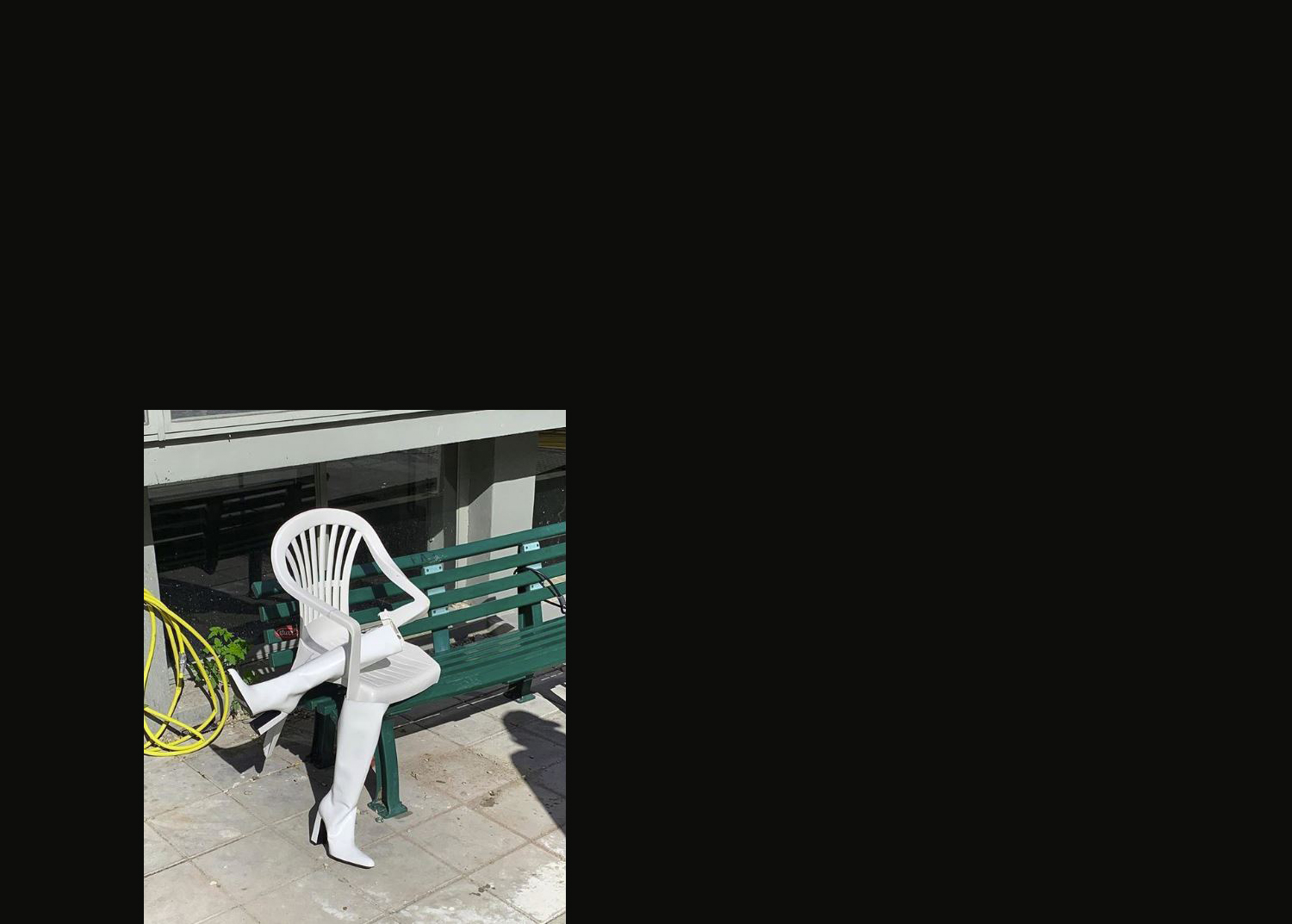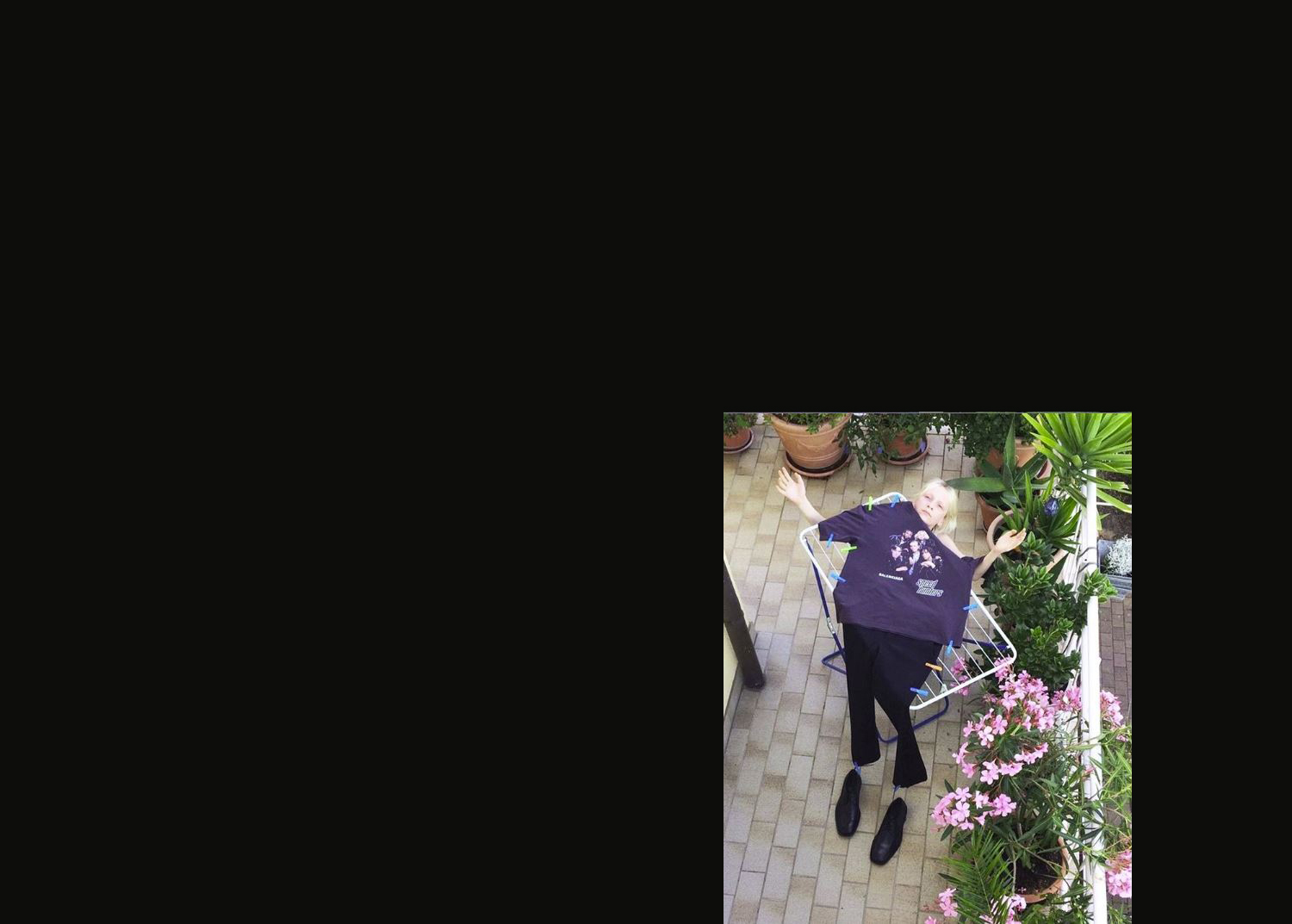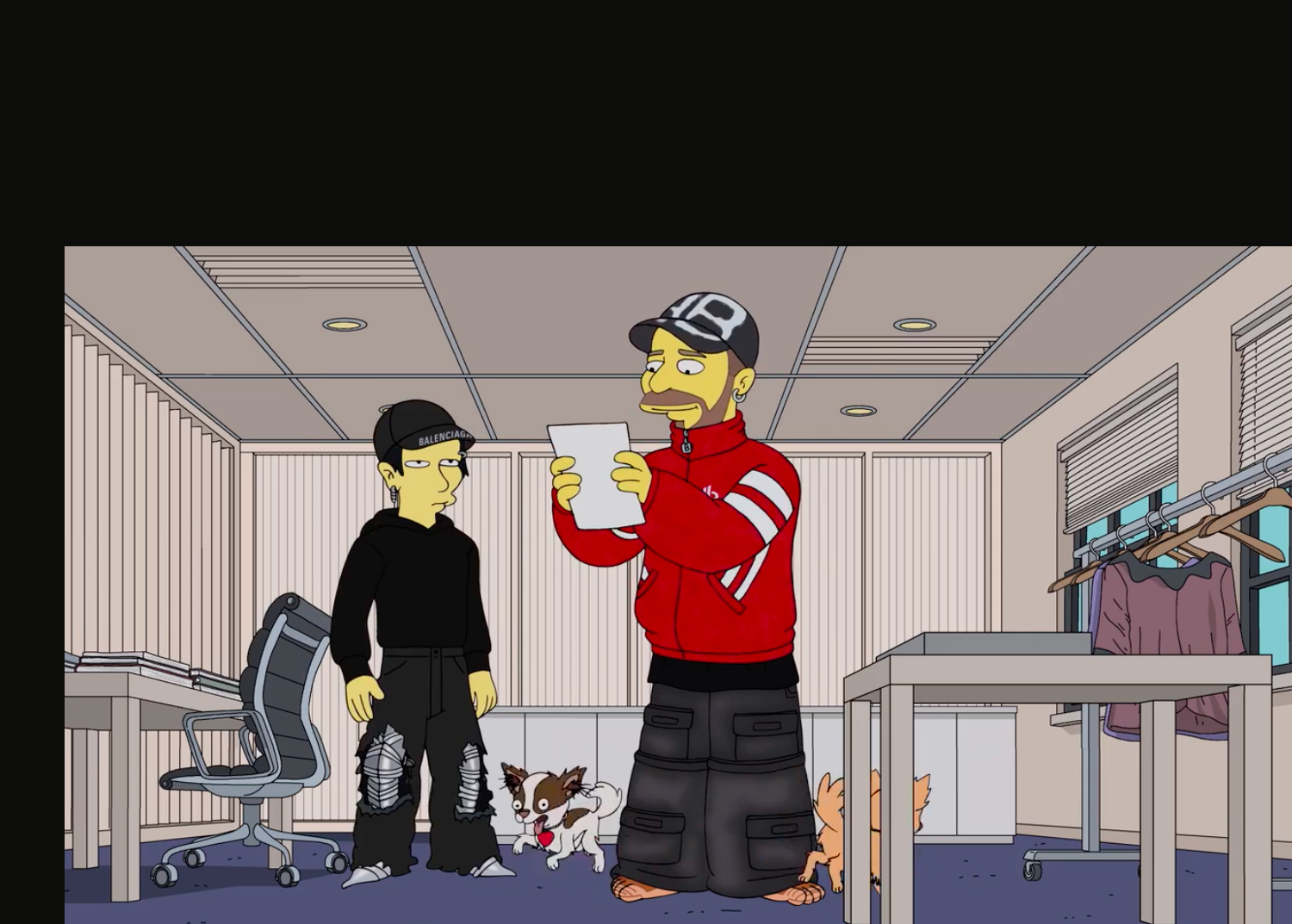 Related products
n°17 — An acronym: ACAB. Authors: Ariane Bosshard, Jérôme Dupeyrat, Olivier Huz and Julie Martin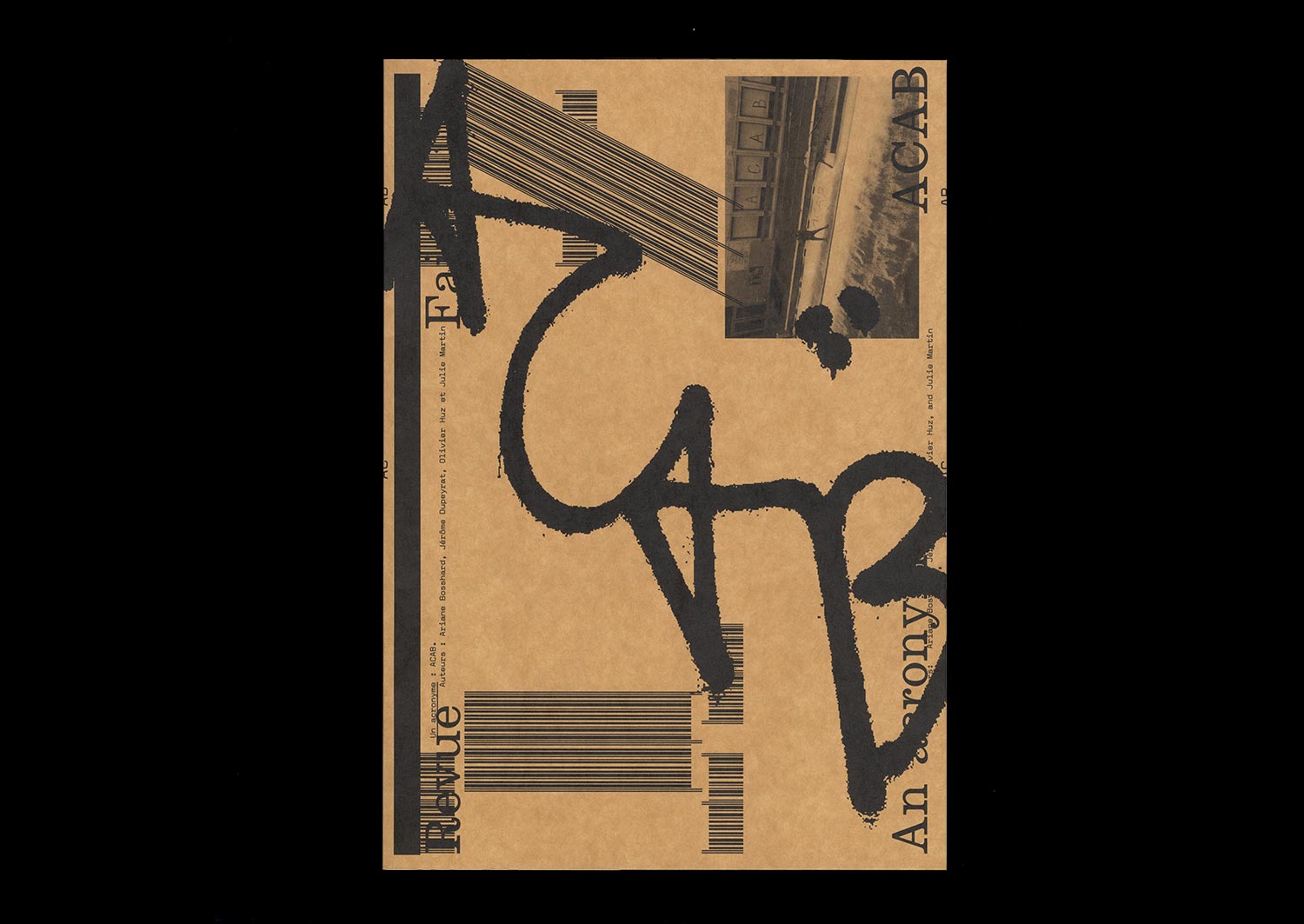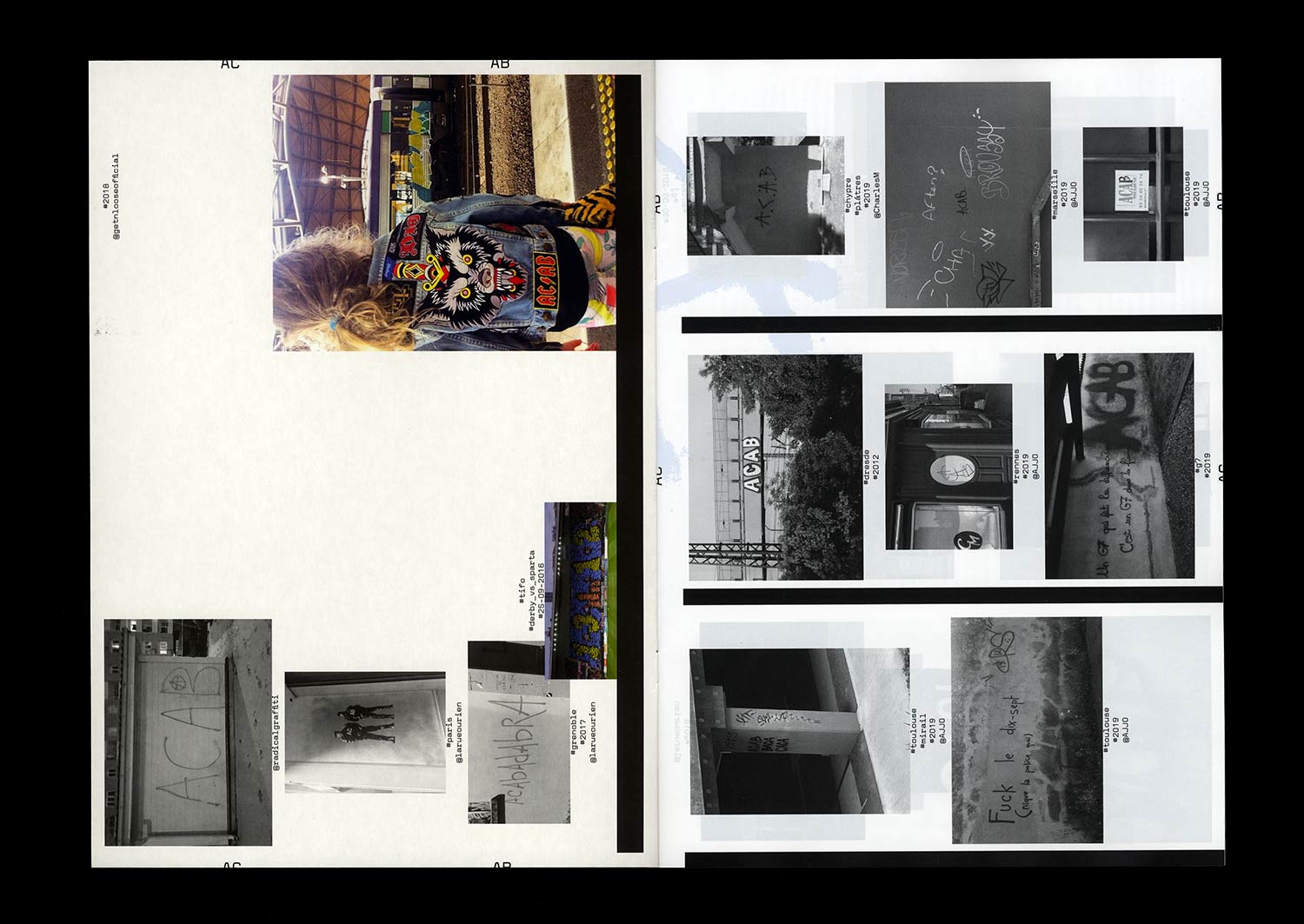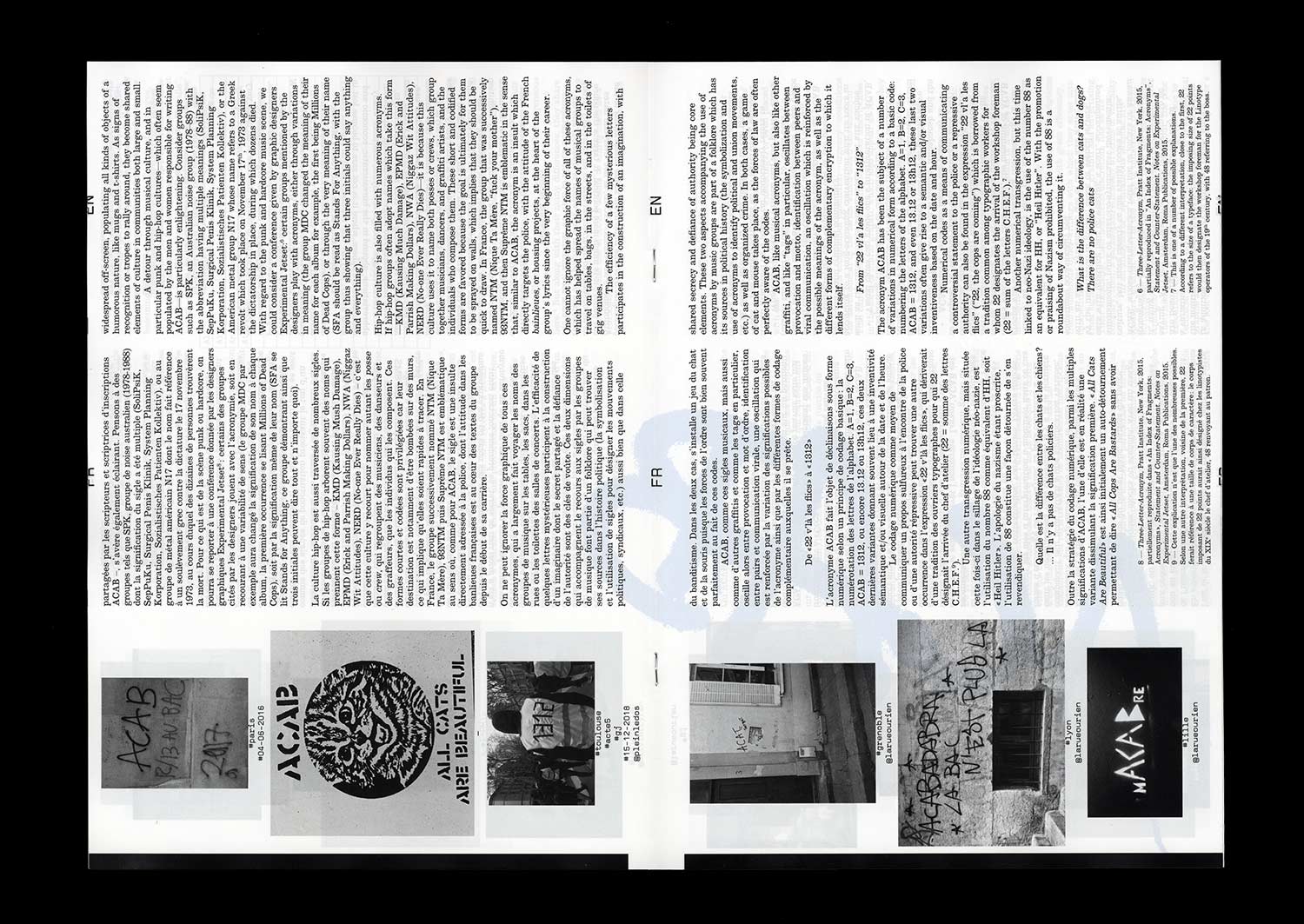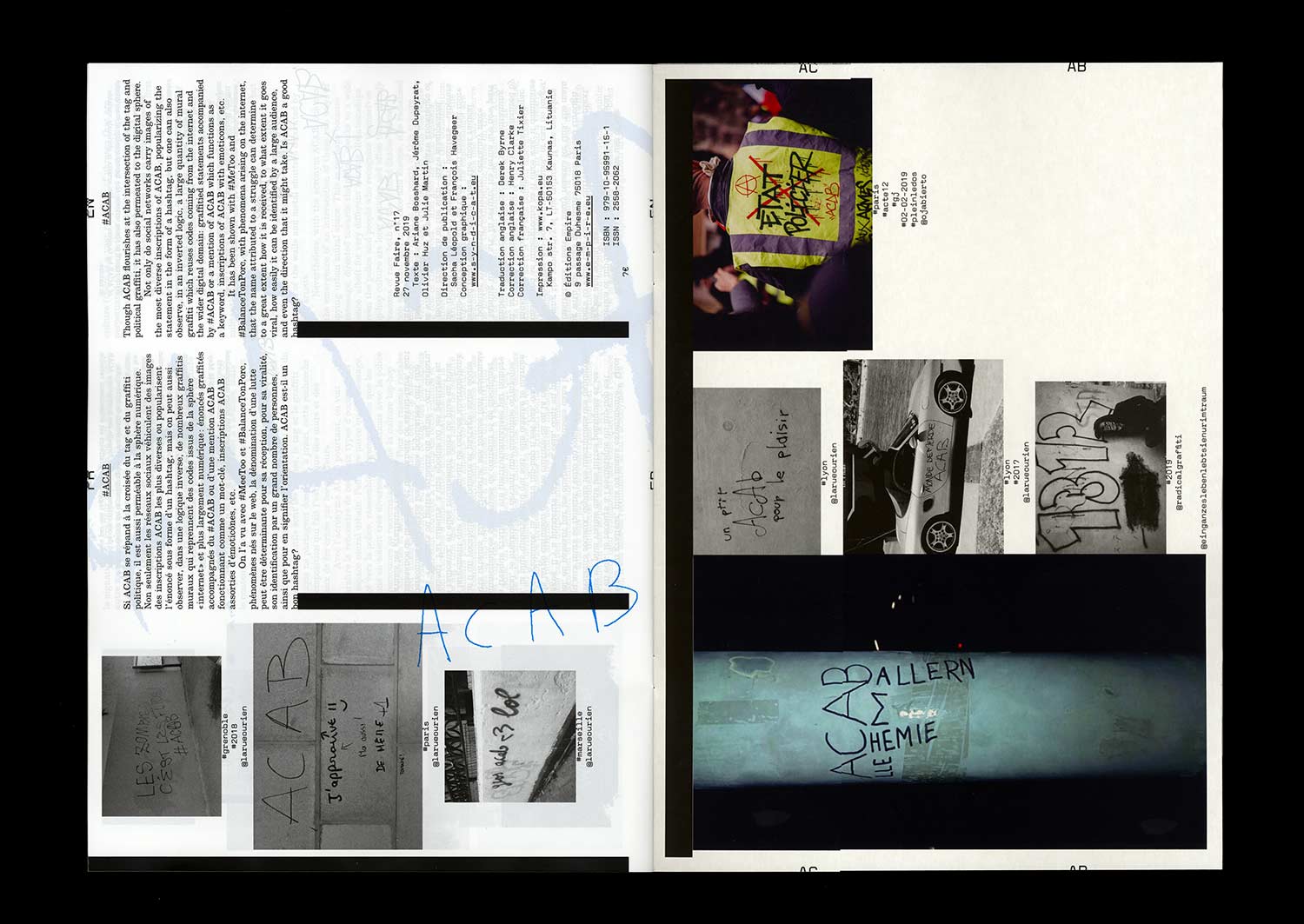 Authors: Ariane Bosshard, Jérôme Dupeyrat, Olivier Huz and Julie Martin
20 pages, 21 × 29,7 cm, CMYK
26th November 2019
ISBN: 979-10-95991-15-1
ISSN: 2558-2062
Authors: Ariane Bosshard, Jérôme Dupeyrat, Olivier Huz and Julie Martin
20 pages, 21 × 29,7 cm, CMYK
26th November 2019
ISBN: 979-10-95991-15-1
ISSN: 2558-2062
The acronym ACAB, often seen in urban space in the form of graffiti or stickers, first appeared in the U.K. in the 1970s, linked to punk culture, and later found a certain popularity during the social movements of the 1980s. Meaning "All Cops Are Bastards", over the last 20 years it has become widespread in public spaces internationally, in the wake of a number of political movements, from alter-globalization groups to the French gilets jaunes, or Yellow Jackets, along with black blocks and TAZs, even spawning different variations, such as "All Capitalists Are Bastards", "All Colors Are Beautiful" and "All Cats Are Beautiful".
Observing how ACAB (or its numerical version, 1312) is written, allows one to traverse multiple political landscapes, as well as a number of visual cultures (anarchist, punk, hip-hop, LOL) to which this acronym has spread. It is through this scriptural, graphic and visual movement that it has become both a sign of recognition and a polysemic statement.
n°19 — A history: graphic designer-publishers. Author: Thierry Chancogne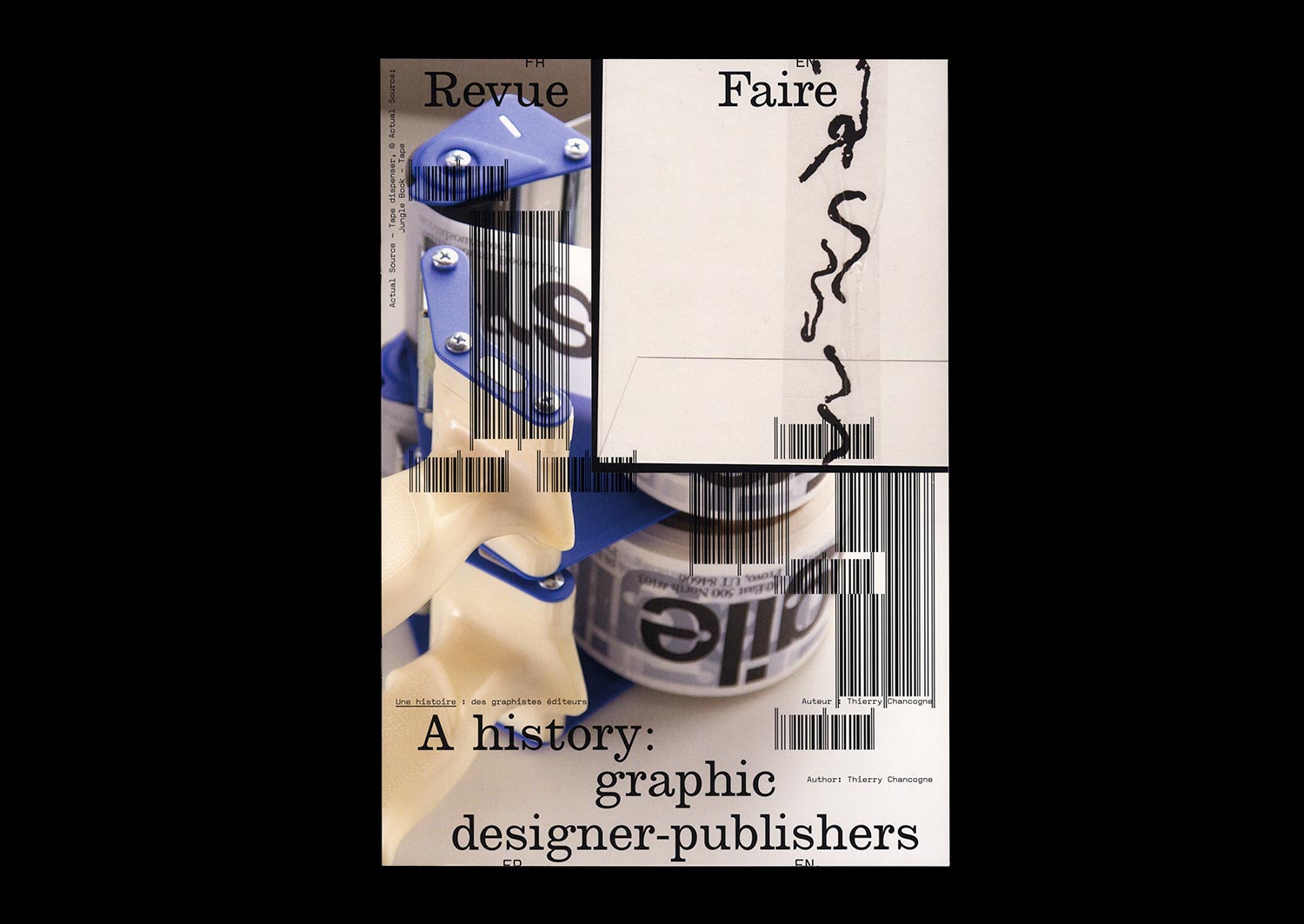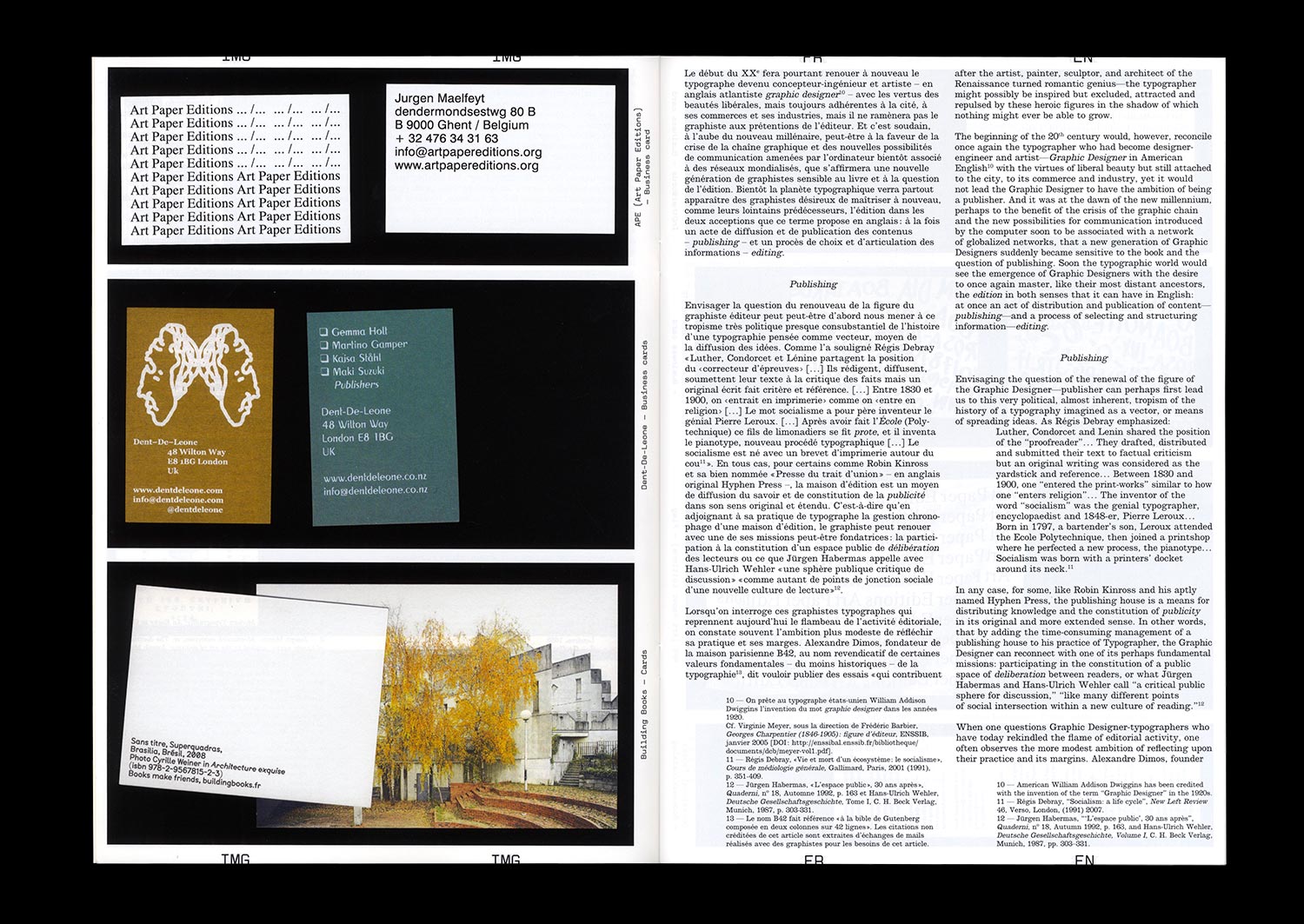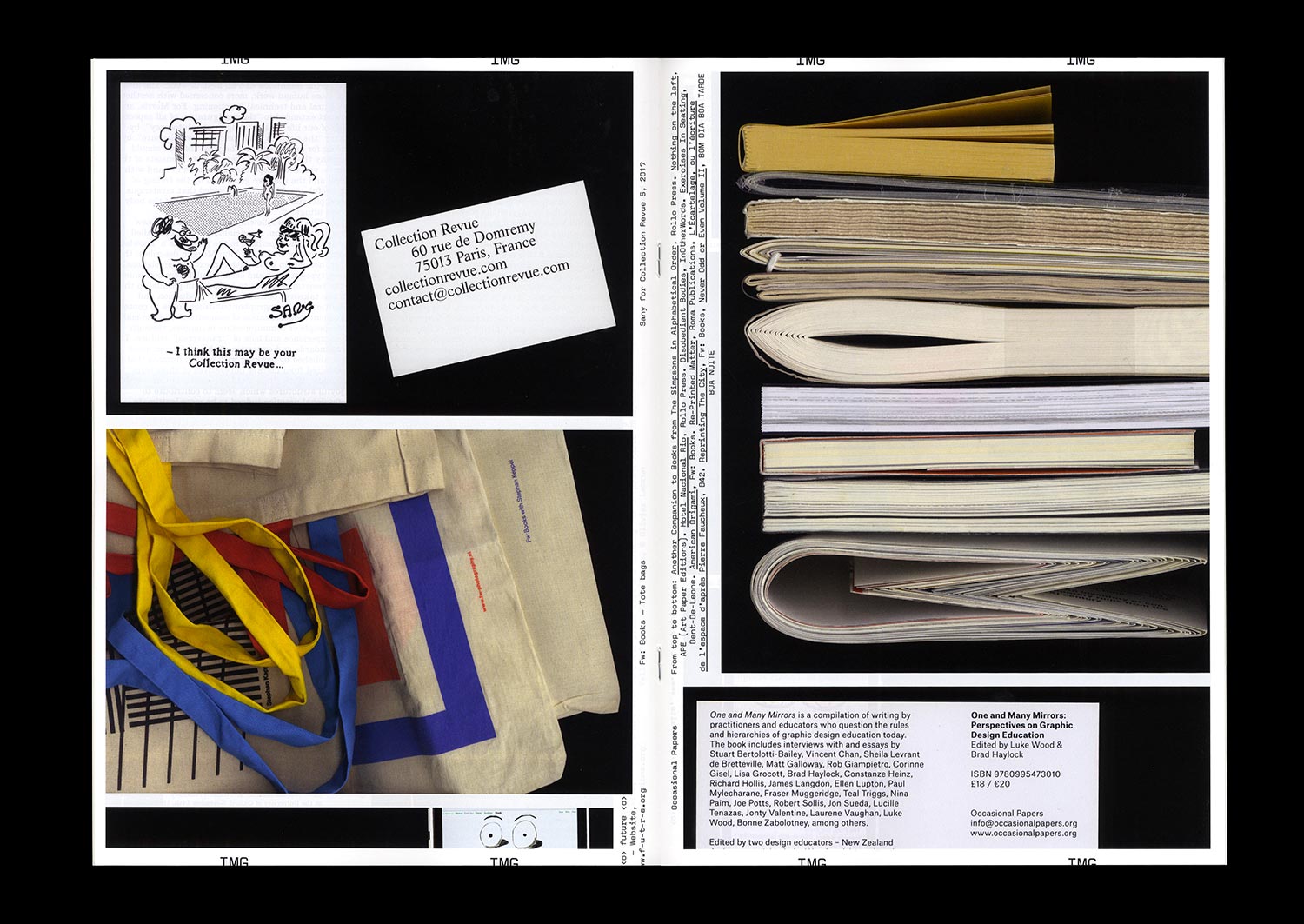 Author: Thierry Chancogne
20 pages, 21 × 29,7 cm, CMYK
5th February 2020
ISBN: 979-10-95991-16-8
ISSN: 2558-2062
Author: Thierry Chancogne
20 pages, 21 × 29,7 cm, CMYK
5th February 2020
ISBN: 979-10-95991-16-8
ISSN: 2558-2062
In 1275, the kingdom of France ruled on the rights of stationarii (copyists) and librarii (librairies, the French for "bookshop"), newly emancipated from the yoke of the Church (Friedrich Karl von Savigny (author and publisher), Histoire du droit romain au moyen âge, Tome III, Charles Hingray, Paris, 1839 (1815), p. 415). The main question was and has always been, even before the invention of printing, the regulation of the circulation of writing, and the designation of those responsible for their inscription and distribution.
Robin Kinross identified the emergence of the modern figure of the typographer in the 17th century, with The doctrine of handy-works: applied to the art of printing by Joseph Moxon (Robin Kinross, Modern typography: An Essay in Critical History, Hyphen Press, London, 2004 (1992) pp. 15-16). But long before this, graphic artists, copyists, and typographers such as Geoffroy Tory and Henri Estienne the elder were both booksellers and publishers who gave much thought to their practice and the contents that they released into the public space.
It would seem that the time has come to reassess this ancient tradition, with more and more graphic artists and designers choosing to establish their own publishing houses in order to defend their editorial approach in both senses of the word—that of "editing" and the choice and organization of graphic material, but also in the sense of "publishing", applying a certain ethic to the distribution and advertising of the contents.
n°23 — Jan Tschichold: The Master approving of his own work. Author: Žiga Testen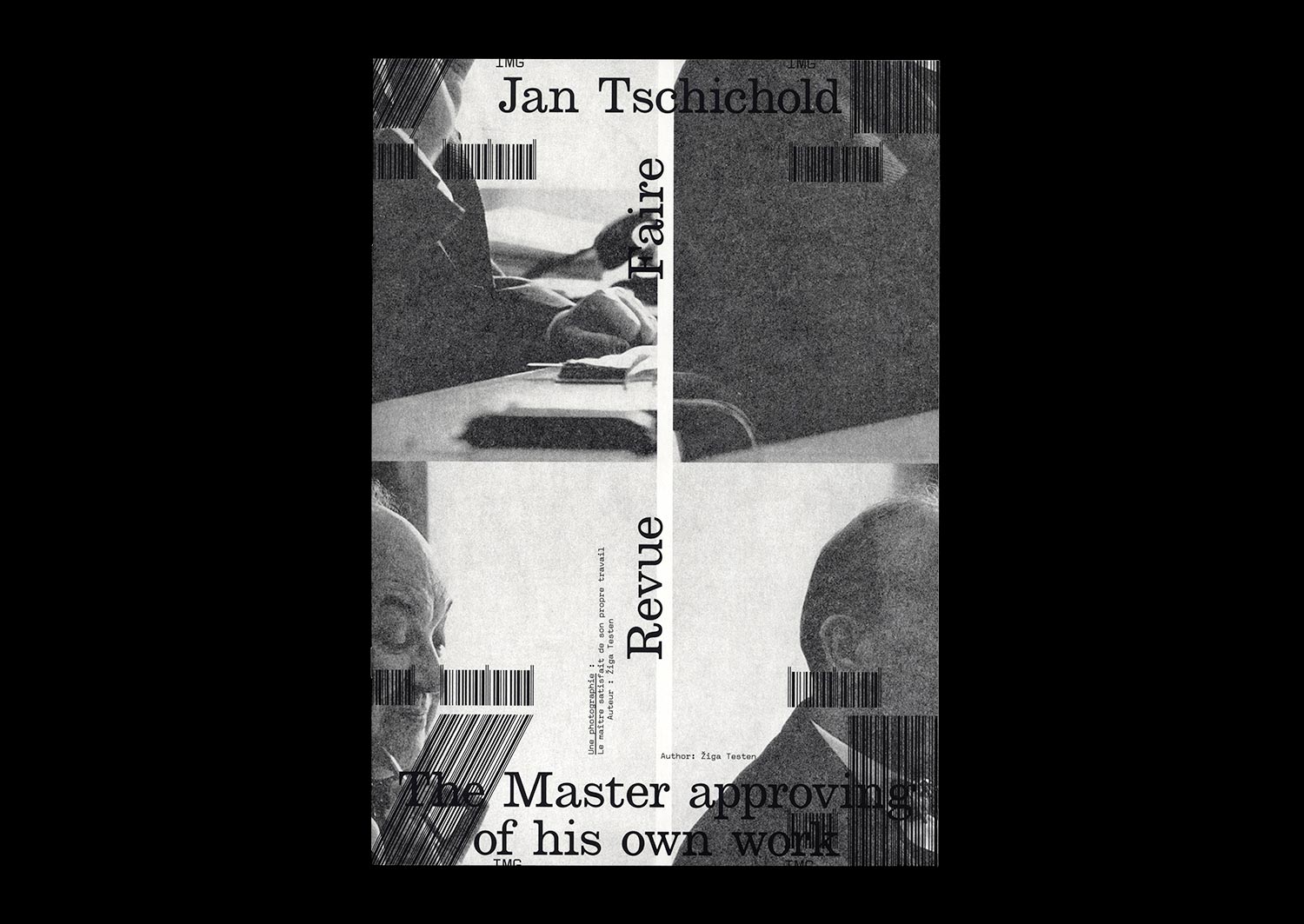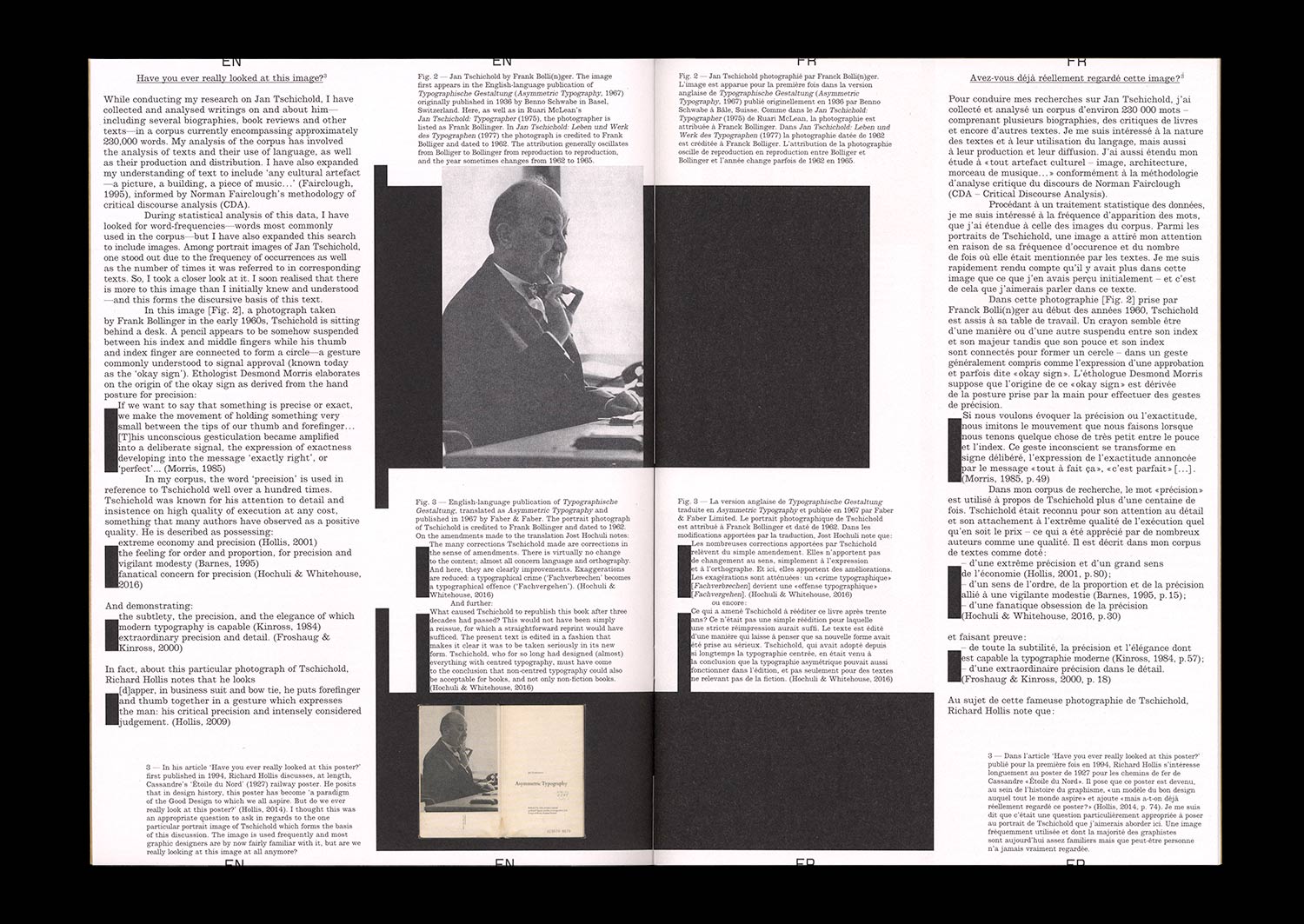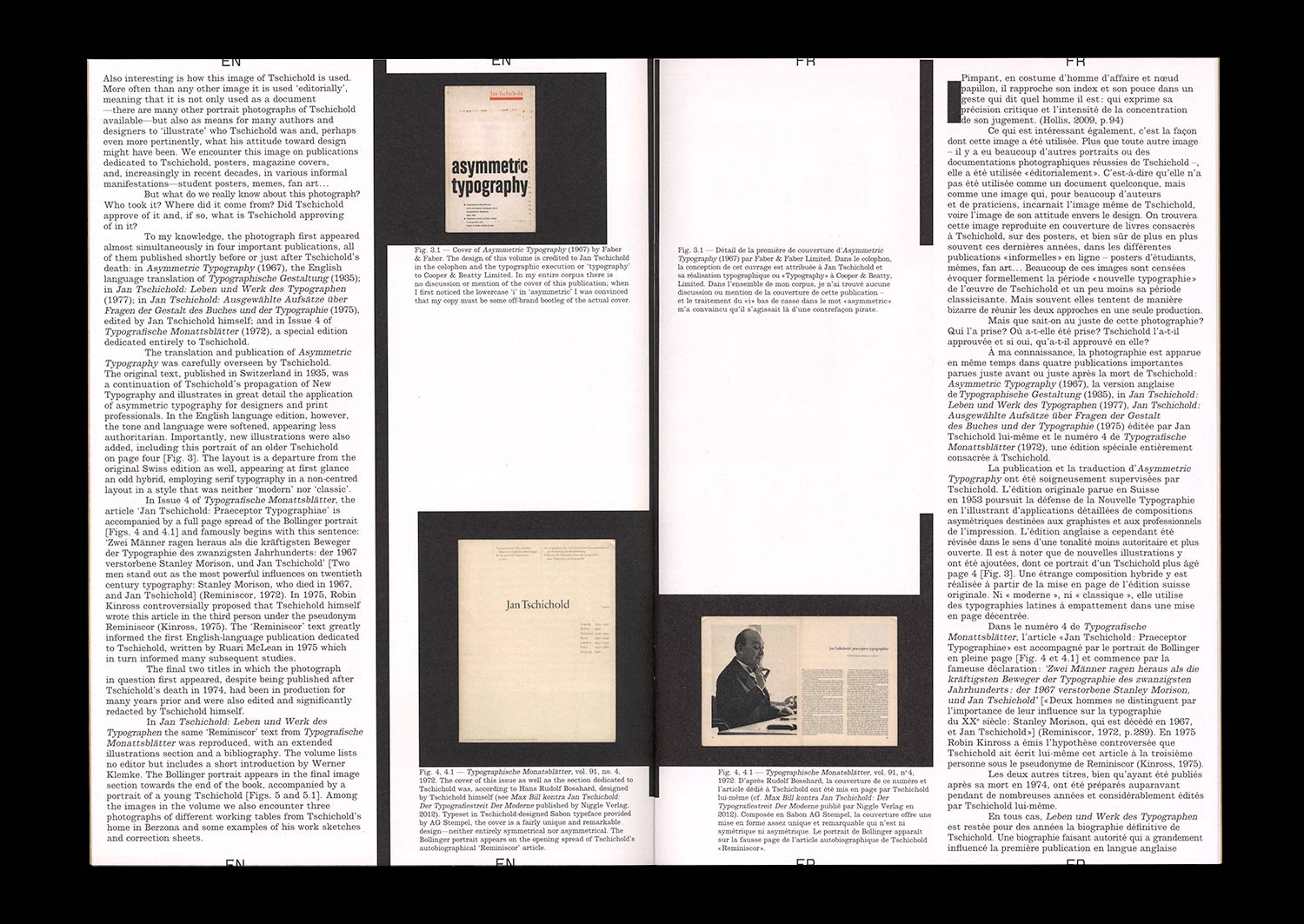 Author: Žiga Testen
24 pages, 21 × 29,7 cm, CMYK
9 September 2020
ISBN: 979-10-95991-17-5
ISSN: 2558-2062
Author: Žiga Testen
24 pages, 21 × 29,7 cm, CMYK
9 September 2020
ISBN: 979-10-95991-17-5
ISSN: 2558-2062
Design history as an independent discipline and field of study appears to be in trouble. Design historians complain about its diminishing influence within universities due to the ongoing instrumentalisation of higher education. The Eurocentric canon built upon values and methods adopted from art and architecture history has been contested by decolonial theories. And finally, it appears that the trust in the institution of 'history' itself and its meta-narratives has eroded.
A discipline that was once considered to provide reflection on what came before and guidance on what could come to be—under the auspice of a grand narrative of continuous progress—has been replaced by modest narratives, social anthropologies, and claims of the 'end of history'.
In this article, I rummage through the ruins of design history and try to unpack what it was that we once considered design history and our design history canon, how we wrote about it and to what end. In particular, I focus on this one image: a portrait photograph of a well-known historical figure, the designer and typographer Jan Tschichold. How is it used? And what stories do we tell about it?